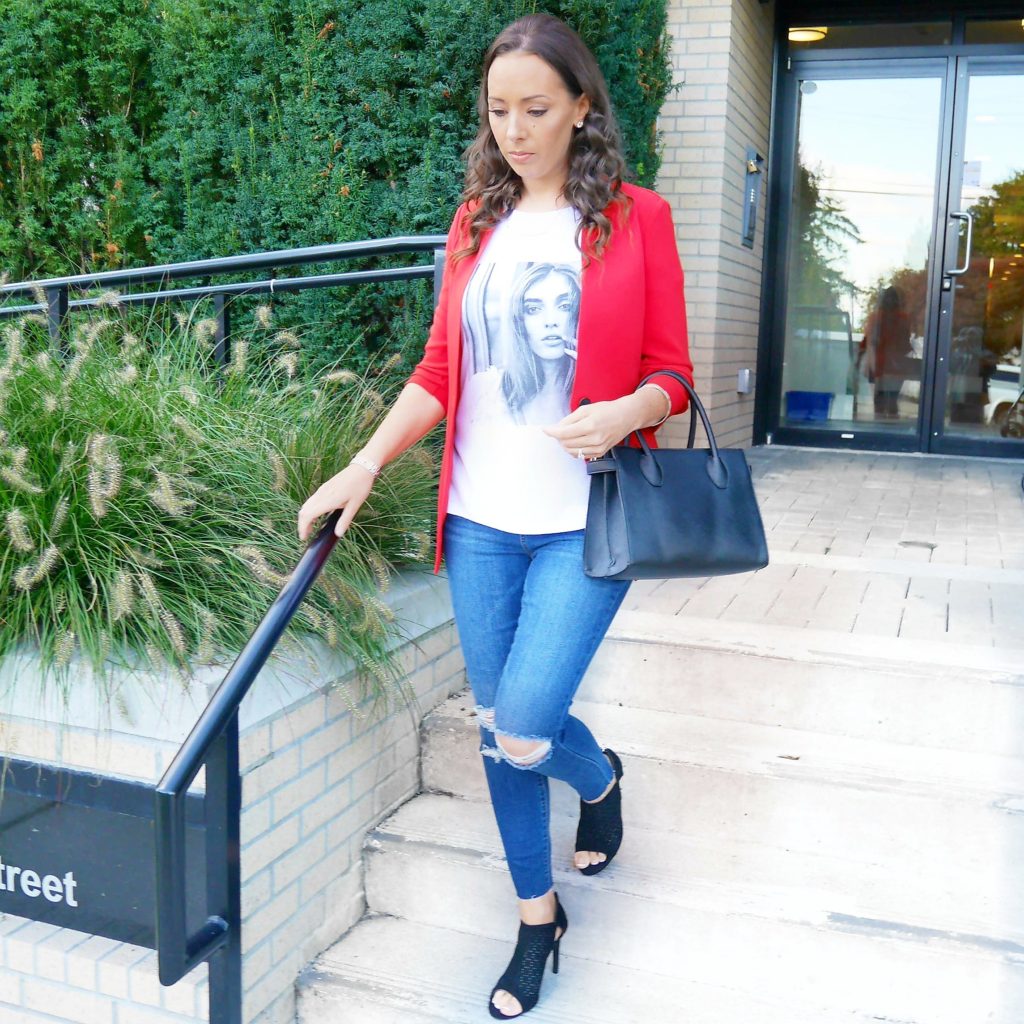 The official color of Fall '17 is Red and I am falling hard for it. Red is a very bold color and I love how it screams Power & Strength but at the same time represents Passion, Desire, and Love. Whenever I rock Red, I feel positive and energized. This past Thanksgiving Day holiday I decided to incorporate a pop of Red into my look. Today on the Blog I am sharing my OOTD details to inspire you to add some Red to your wardrobe this season.


Blazer with Ruched Sleeves
One of my favorite fashion staples that I cannot live without for Fall is a Blazer jacket. Blazer's are stylish, versatile and most importantly comfortable. On most Fall days the weather isn't cold enough to wear a heavy jacket so a Blazer is usually perfect for the weather.To fire up my look for Thanksgiving Day this year I wore an intense crimson red blazer with ruched sleeves. I love the stylish ruched sleeves, button detailing and modern silhouette of this statement piece. It's such a versatile piece that I can wear to work or for an evening out on the town.
Chic Slogan T-Shirt
Under my blazer I wore a casual t-shirt that was trendy and fun yet comfortable enough to be able to breathe in after eating Thanksgiving Dinner. This black and white chic slogan t-shirt added a little edge to my outfit and the blazer jazzed up the casual look of the t-shirt. I'll definitely be rocking this shirt often as it will look great under a black leather bomber style jacket.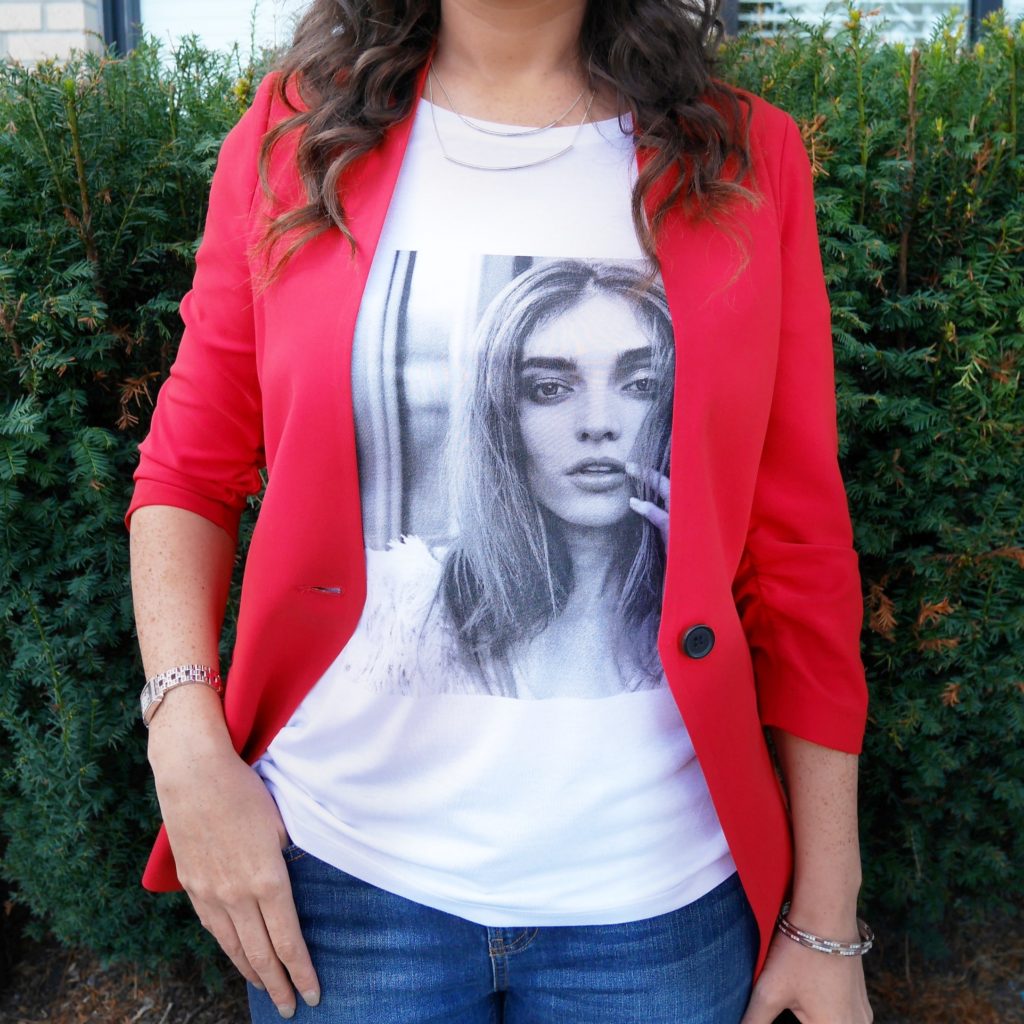 Distressed Skinny Jeans
Skinny Jeans are my favorite for any season so it is no surprise I am wearing them in this look. These skinny distressed jeans are effortlessly versatile and so comfortable. The jeans feature a classic rise and a bit of stretch which are both game changing features for me in a pair of jeans. These are the first pair of jeans I have purchased with a frayed hem and I must say I loved the unique frayed detail.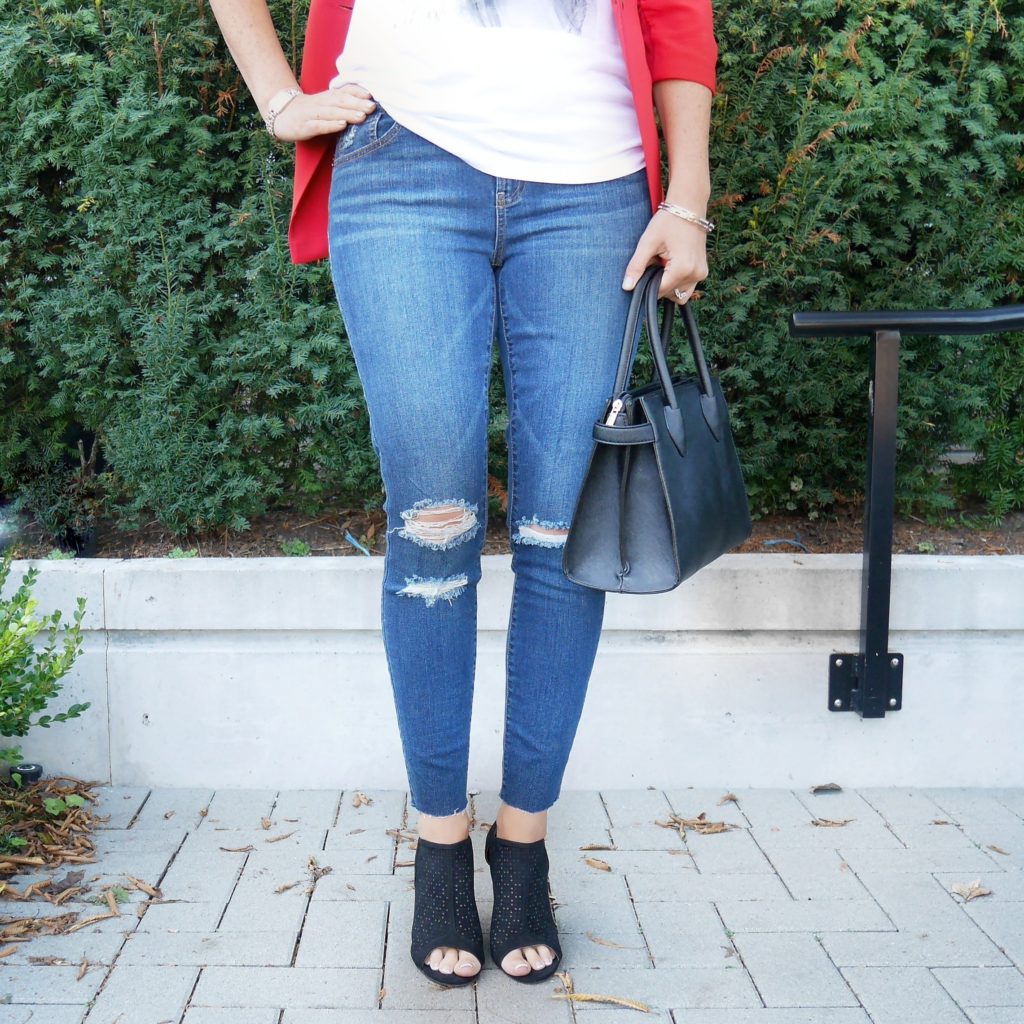 Classic Handbag
I paired my outfit with an over sized tote handbag that held everything I needed for the day and then some. The spacious satchel features metal details that complimented my Jewelry well. I love the size of this bag with this outfit as it was light and not too oversized. This handbag compliments any outfit.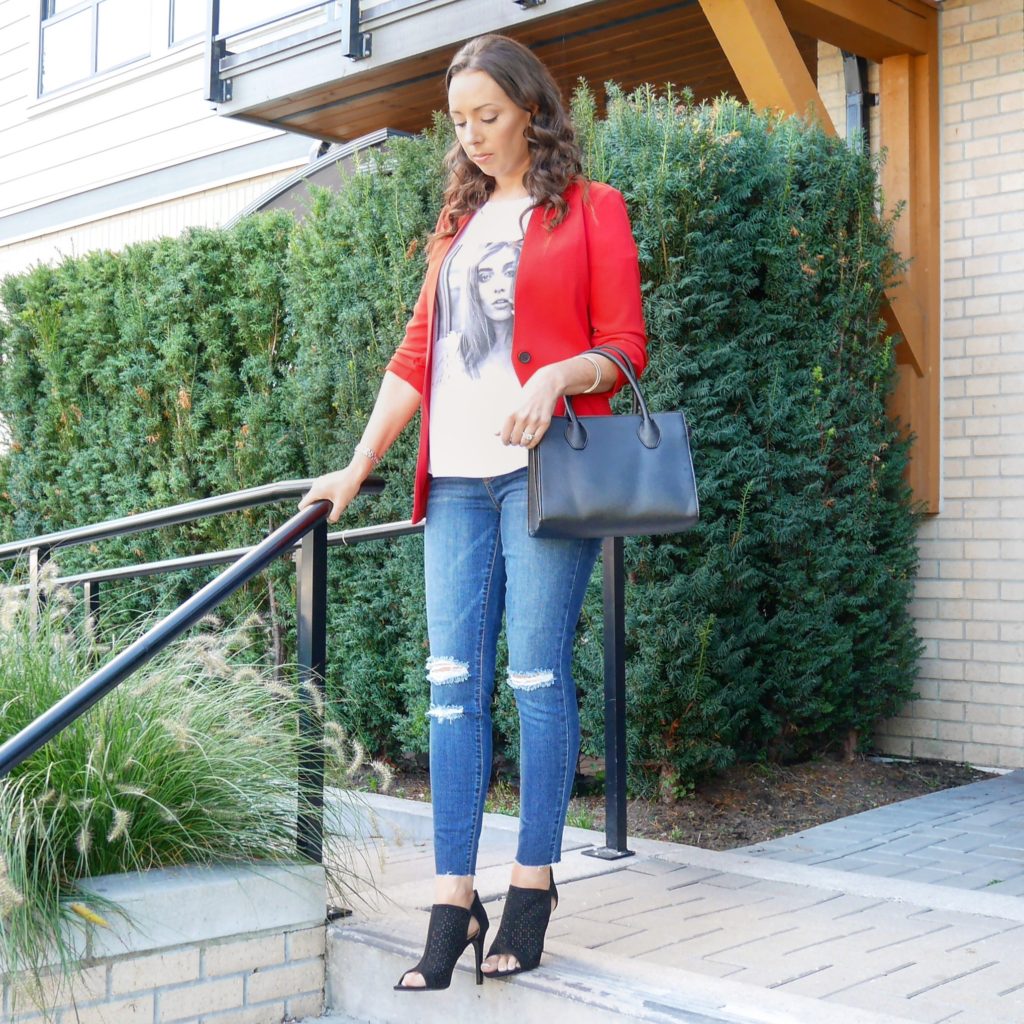 Subtle Jewelry
I went really subtle with jewerly for this look by wearing a necklace with two bar pendants paired with some simple diamond stud earrings. This added a touch of glam to the outfit.


Peep Toe Bootie Heels
Since becoming a mom, I have given up the 5 inch heels and have resorted to 3-4 inch heels. 4 inch heels are the perfect height for me as they still allow me to run after the little man when he gets away. I decided to finish this look off by rocking a pair of edgy faux suede peep toe bootie heels. The side cut-out details are super cute and the zipper at the heel offered easy on/easy off access. They are very comfortable and sturdy to walk in.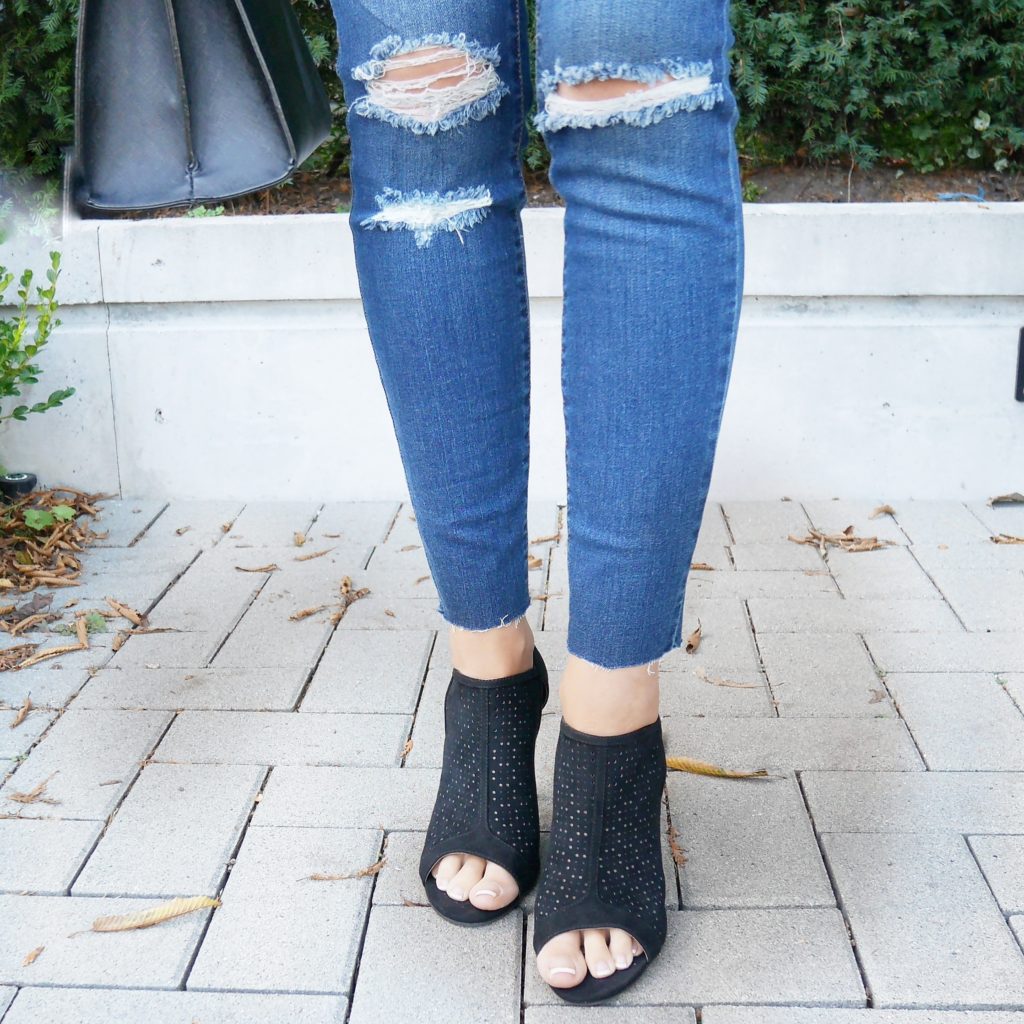 I hope you enjoyed reading the outfit details of my Thanksgiving Day look. This is my first OOTD fashion post and I enjoyed sharing it with you all. Be sure to subscribe to my Newsletter below to stay tuned for many more !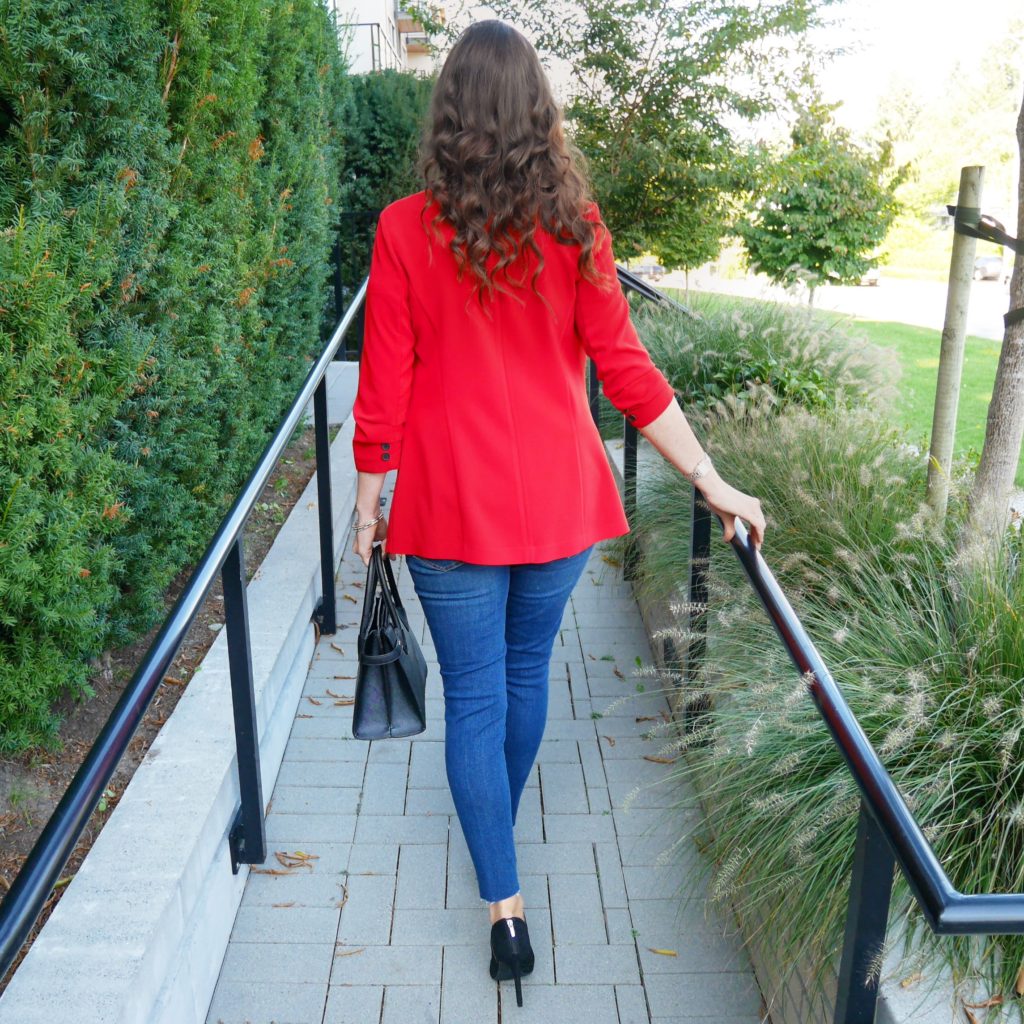 Now that I have revealed my love affair with the color Red I want to know what your favorite color is to wear for Fall? Let me know in the comment section below!
Shop This Look
Blazer| T-Shirt | Jeans | Handbag | Jewelry | Booties
Disclaimer: This post contains affliate links. Please read my Disclosure Policy for more information. Thank you so much for supporting the retailers that support MsDivineShyne.