Help underserved kids while having a blast with your friends by attending this year's Science of Cocktails 2018 event hosted by Science World at TELUS World of Science. On February 8th Science World is transforming into Vancity's largest cocktail Laboratory to raise funds for the Class Field Trip Bursary Program for underserved schools. Vancouver's most talented bartenders and chefs will showcase the chemistry, biology and physics behind preparing modern cocktails and cuisine.
I was fortunate enough to attend the media preview of this exciting event last week and what a treat it was! With several bar & food stations to sample, as well as some fun science activities & hands on demos to explore I am even more excited for the main event.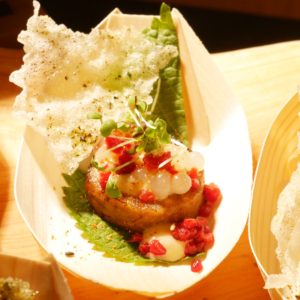 One of the highlights from the preview was the culinary creation by Chef Jeff Hochhausen from Showcase Restaurant & Bar. The 'Char Sui' pork rillettes were a show stopper and one of the most incredibley delicious hors d'oeuvres I have ever tasted. The rillettes were served with yuzu juice which was thickened with agar agar to appear like pearls. Served with a miso and sesame emulsion, fried rice cracker, togarashi spice blend and wild sesame leaf (aka perilla leaf) which was quick frozen and mulled with liquid nitrogen. An all around 10/10 that you must try at this event.
The cocktails were fantastic especially the Yuzu Sake-Tini which is uniquely made with edible caviar flavor using Calcium Bath & Molecular Mixology. I also had some fun at the Shaker Challenge station using sensor technology to track how fast I could accelerate a classic cocktail shaker.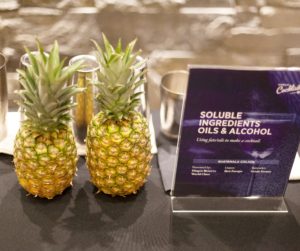 There was one cocktail that came out above the rest called the 'Guatemala Colada' or the Reverse Pina Colada. The concept behind the creation of this drink is using fats/oils to make a cocktail. I wasn't sure what to expect but at first sip I was in love. The tropical inspired cocktail consisted of Ron Zacapa rum with coconut oil, Maillard Pineapple Cordial, citric acid and lactic acid solution stirred and served neat with a friendly smile from bartender Grant Sceney.
Bar & Food Stations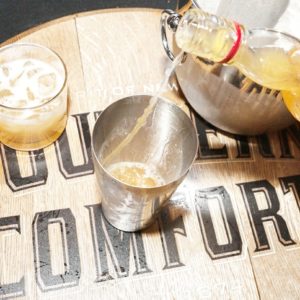 A ticket to Science of Cocktails grants you full access to an open bar from 25+ stations by award-winning Bartenders serving up a variety of their most unique cocktail creations. Some of the finest alcohol & cognacs are served such as Remy Martin, Prime Vodka, & Southern Comfort to name a few. There will also be full access food stations featuring molecular gastronomy from locally renowned Chefs. Chefs from some of the city's top restaurants such as Hapa Izakaya, Showcase Restaurant & Bar & The Keg Steakhouse + Bar will be serving up their finest hors d'oeuvres.
Science Activities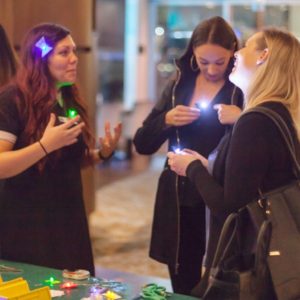 Attractions & Activities include a variety of special cocktail science activities, hands on demos, and classic Science World programming. See if you have the strength and speed to be a professional bartender using sensor technology to track how fast you can accelerate a classic cocktail shaker. You will Witness the awesome power of air pressure as an ordinary ping pong ball is accelerated to over 700km/h – fast enough to puncture straight through the side of an aluminum beer can. Craft yourself a light up LED necklace or bow tie by creating your own custom circuit.
Details
Date: Thursday, February 8th
Venue: Science World at TELUS World of Science 1455 Quebec St. Vancouver, BC
Hours: 8pm – Midnight
Admission: Tickets on Sale Now  General: $159 VIP: $289
All money raised will support Science World's Field Trip Bursary program to help send thousands of kids from underserved schools to Science World on class field trips.
Getting There: Science World is located across the street from the Main Street-Science World SkyTrain Station. The Aquabus and False Creek Ferries make regular stops near TELUS World of Science. Easily accessible from both Highway 99 and the Trans Canada Highway.
See you there!
Follow Science World at TELUS World of Science on Facebook, Instagram & Twitter for more Information. Live Updates and Upcoming Events.