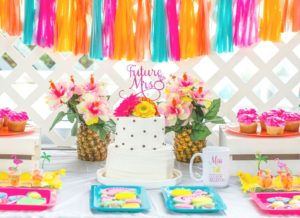 Are you looking to throw a unique party this Summer? You have come to the right place! With Tropical Party's being so bold, fun and relaxed all at the same time all your guests will be sure to have a good time. I have some fun ideas to help you out with décor, treats, cocktails and more to get you inspired to create the perfect tropical party.
Inspiration
A few weeks ago I organized and styled one of my dearest friends Bridal Showers. The Bachelorette party had already been planned for her on a Tropical Boat Cruise party. Since it was so close to the start of the Summer season I thought it would be fun to incorporate the Tropical Vibes into her Bridal Shower. I wanted something unique and original that matched the Bride-to-be's outgoing and colorful personality so I took inspiration from one of the latest trends of the tropics.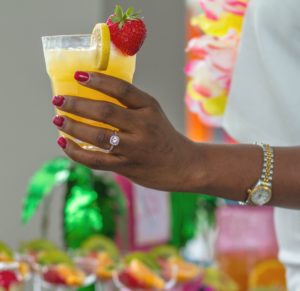 One of the first and most important steps in party planning is making sure to chose a theme that is popular enough that you can find party elements available at your local stores or online. There is nothing worse than envisioning your perfect party and then going shopping to find that you can't find any décor appropriate for your theme. I'm all for a DIY party and if you have the time – You Go Girl! The truth is most of us don't have the time or patience so it's always a good idea to head over to your local party store or browse some party shops on etsy to get inspiration prior to planning. It will save you a headache in the long run.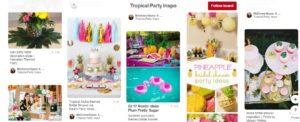 Once you have decided on a party theme, one of the best places to find inspiration for your theme is on Pinterest. Search a keyword with your theme and thousands of pictures of party bliss will appear to pin to your Inspiration Board.
Party Elements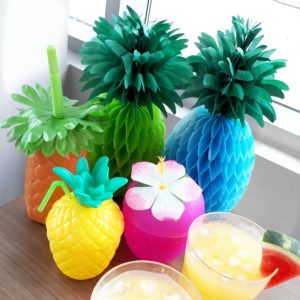 The best thing about organizing a Tropical party is that it is very easy to find Tropical party elements and they are generally quite inexpensive. You can even look in your fridge or kitchen cupboard and be sure to find something tropical to incorporate into your party. Since Tropical elements are all the trend right now you can pretty much find them at any store. For this party I went with Palm Trees, Flamingos & Pineapples!
Most of the items I used for the Bridal Shower were found at my local Dollar Tree, Party City and Etsy. Based on the Season you are planning your party in you might run into a problem finding tropical elements but the good thing is that bright and cheerful party elements work just fine and can be found all year round. Look for items accented with bright colors, and bold and beautiful prints.
Color Scheme
Choosing a color scheme for your party is a great way to start the planning. Since this Bridal Shower theme was Tropical I chose a colorful fun vibe! The color scheme consisted mainly of orange, hot pink, teal blue but I also incorporated a little bit of flamingo pink, bright green and yellow into the décor for an extra pop of color. The palette was very vibrant and reflected the whole tropical theme !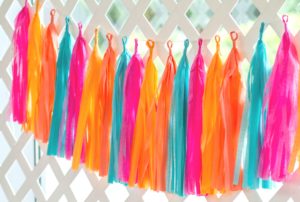 Tablescape and Décor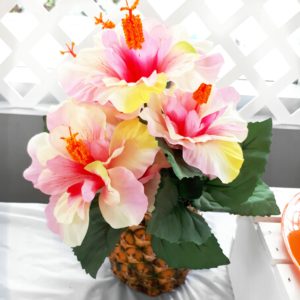 The mood was set with fun décor and a vibrant dessert tablescape. The DIY pineapple vases used for centerpieces were very tropical chic. Since the featured colors were so bright, a fresh clean white was used for the table cloth setting and the backdrop in order for the colors to really stand out! The beautiful custom tassel garland handmade by Confetti Crown Designs displayed on the white lattice backdrop really tied everything together nicely. The backdrop used was a piece of white plastic lattice purchased at Home Depot. It looked very classy and framed the table beautifully. If you are looking for an inexpensive backdrop that looks good, lattice is a great option. It like that it came in white so there was no painting required and I didn't have to have it cut either as it was already cut to a good size for a backdrop. I was really happy to use the lattice as I needed something more on the plain and simple side as there was enough color coming from the elements on the table. To spruce up a lattice backdrop up you could use flowers and intertwine them through the loops.
I used wooden crate boxes from Michaels that I spray painted white to add some height and dimension. It is always a good idea to do this with any tablescape to make it look more interesting. I was lucky enough to find all the tropical cups, straws, dessert platters and ice cream sundae cups at Dollar Tree. They were the perfect addition to add to the mix.
For flowers I stuck with natural tropical elements and palm leaves.  The venue for this party was small and intimate so I used some colorful artificial flowers and greenery  that were perfect for brightening up the colorless areas of the venue.
Signature Drink
Cocktails are a must at any party but especially a Tropical party! It's nice to serve a signature drink, add some fruit serve with a cute straw and you are good to go! You can find tons of signature drink inspiration, recipes and free drink menu printables on Pinterest.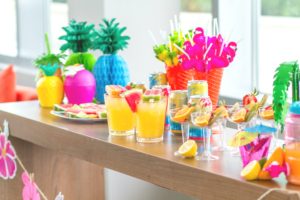 A DIY drink bar always works well so guests can serve themselves which leaves more time for the host to mingle and relax . Tina's Tropical Punch and poptails were served as our signature drink. A poptail, is basically a cocktail served with a popsicle to make for an extra refreshing treat. It makes for the perfect beverage for a summer party.



Because of all their amazing tropical flavors the Poptails were served with Palm Bay Spritz . The Mango-Pineapple and Raspberry-Passionfruit Flavored Vodka Sodas were served with a Mango Berry Pop and the Raspberry-Starfruit Iced Tea and Mango-Lemon Flavored Iced Teas were served with a Watermelon Kiwi Pop.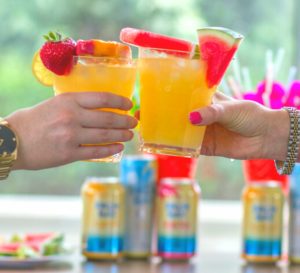 The popsicles were a huge hit at the party thanks to Popsi Gal ! Each Popsicle is handcrafted with fresh fruit so the sugars in the pops come from the fruit themselves so they are not overly sweet. Not only did the signature drinks taste amazing but they also fit the theme perfectly.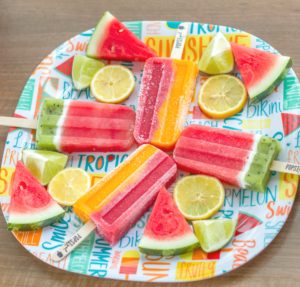 Sweet Treats
The Dessert table was filled with some extra special sweet treats all from various local vendors. The creative vendors blew us all away with their imaginative designs and ideas. Some of the highlights were the delicious Lemon cake with Raspberry filling and Hibiscus cupcakes from Sugar Flour Bake Shoppe.  The pretty custom cake and cupcake toppers used for decoration were made by the talented Glitter Paper Scissors.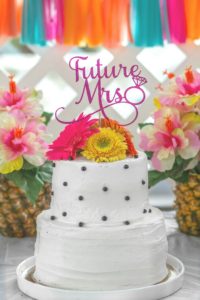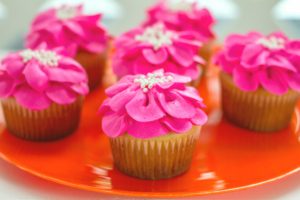 Que-t Sweet Treats provided the most delicious tropical themed sugar cookies. They were the cutest ever! For some extra sweetness there were some candies added to the spread. A great party is always complete with a great Party Favor and that's where Shayla's Sweet Treats chocolate specialty came in. Guests took home Shayla's custom tropical themed chocolates. They were customized in tropical colors in Flamingo and Pineapple shapes. They were almost too cute to eat! Everything was so delicious, fun and right on trend.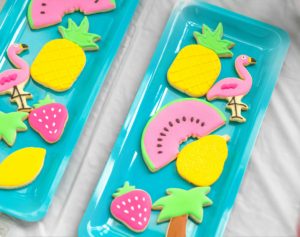 Photography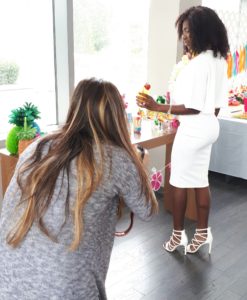 Hiring the right photographer for your special event is very important. Of course it is not necessary to hire a photographer for your event but it sure is amazing to have someone capture all the memories of your special day and have gorgeous photos to look back on. If you have a limited budget you could have a friend with a great camera capture some shots. As the host you will most likely be tied up for most of the day so try to delegate this to someone that has a good eye for taking photographs.
From the preliminary stages of the planning for this shower I knew I wanted it to be professionally photographed so I did a little bit of searching around the web and found a local Lifestyle Photographer from the Vancouver area Photography by Cashmere  Cashmere is extremely talented and her eye for detail really showcased well in her work. As I was very drawn to her work, I contacted Cashmere immediately and luckily she was available for the day of the event! I looked to Cashmere to help capture the fun tropical party celebration and she did just that and beyond! She captured all the colorful features and details of the party beautifully. She exceeded all my expectations and I am so happy the Bride has beautiful photographs for memories of her special day.
Gifts
In my opinion there is nothing better than receiving a personalized gift. It shows that the person giving it put some extra thought into the gift. You can pretty much personalize anything to make the perfect gift for that someone special. I reached out to a local designer The Printed Pug  for help on a little something special for the Bride. I love that she came up with an everyday item and personalized it with a memorable custom design that the Bride can cherish for years to come.


Attire
Guests were asked to dress in all white attire. All the ladies looked so classy in the all white dress code and it really worked well against all the tropical colors in photos.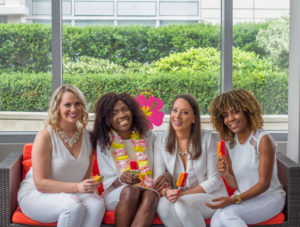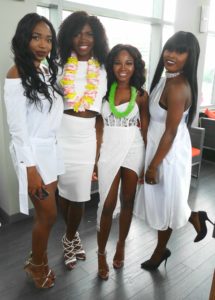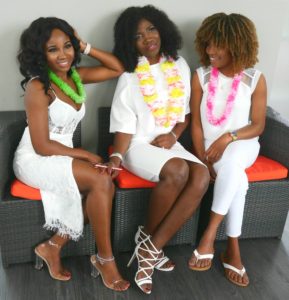 I hope you enjoyed the photos and tips from this Tropical party and I hope it will inspire you when planning your own. Do you have any fun ideas, tips or advice for planning a tropical party that you would like to share ? Please share in the comments below!
Huge thank you to the dream team behind this party who made it a huge success!
Photography: Photography By Cashmere // Venue: The Podium at Park Place, Surrey BC CAN // Event Stylist & Planner: MsDivineShyne // Florals: 99 Nursery // Decorations & Décor: Confetti Crown Designs // Popsicles: Popsi Gal // Cake & Cupcakes: Sugar Flour Bake Shoppe // Custom Cake and Cupcake Toppers: Glitter Paper Scissors // Cookies: Que-T Sweet Treats // Chocolate Favors: Shayla's Sweet Treats  // Customized Mug: The Printed Pug // Models: Atinuke, Jaclyn, Kemi, Melanie, Felicia & Tola